Whether you're in town for a family vacation or a Vancouverite with a day off with the kids, you want to get the most out of a day in Vancouver with kids. There's so much to do and so much for your kids to learn!
Here's our favourite Vancouver family itinerary with where to eat, how to get around and what not to miss. Leave your car behind and make your way first to the majestic Stanley Park. From there, you can get around easily by a combination of trolley, train, subway and boat!
Morning: Stretch your legs and your minds
Start your day at beautiful Stanley Park—and get going as early as you can. Stroll through the giant trees, visit the Totem Poles (a kids-favourite!) and go for a short ride on the Stanley Park Miniature Train.
The Stanley Park Trolley will save you some time and take you to Coal Harbour, which is a great place to start a walk along the scenic waterfront to Canada Place. It'll take you about 45 minutes, and you'll have time to observe float planes, the Olympic Cauldron and boats coming and going.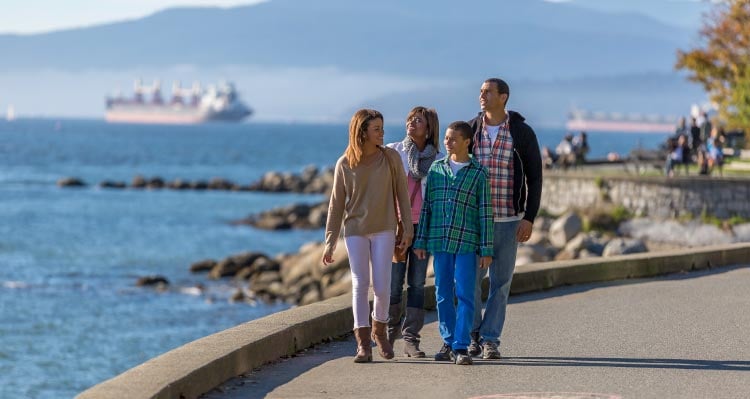 At Canada Place, turn north and walk along the Canadian Trail. Watch for plaques on the ground of places you've been and places you've always wanted to go. It's a great way to connect your kids with the geography of this country. Once you've warmed up your Canadiana, the next stop is the ultimate flight ride across Canada at FlyOver Canada. Kids must be at least 102 cm (40") and be accompanied by an adult to participate.
If you get there before 11 AM, kids ride for half price!
Lunch: Steam-blowing good time
Head to the Old Spaghetti Factory for lunch in historic Gastown. This is Vancouver's oldest neighbourhood and just a few blocks from the Canada Line station. The price is right for families. Plus, there's a vintage trolley car right in the middle of the restaurant! When you're done, stop for a family photo at the Steam Clock, which blows every quarter-hour, as well as at the famous Gassy Jack statue.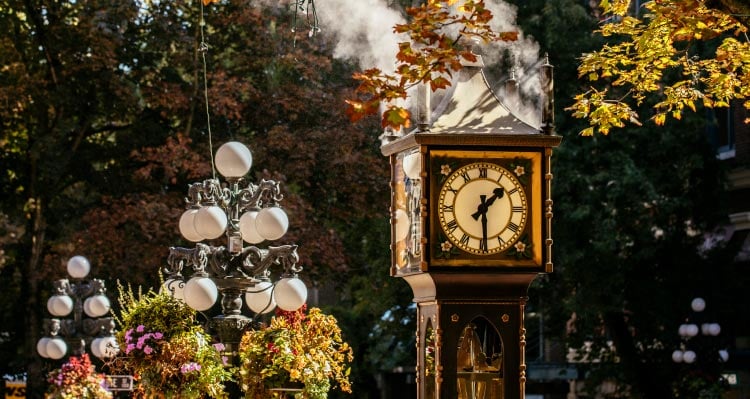 Afternoon: Culture Galore
Hop on the Canada Line from Waterfront Station and ride it to Olympic Village. From there, you can take an adorable Aquabus straight to Granville Island.
There's a lot to see here. Start inside the market. Make a list with the kids and see if you can find fresh flowers, candy, chocolate, ethnic treats, salami, bagels, cool seafood, weird organic fruit and so much more! Then, visit the Kids Market. If it's hot out, cool off at the largest free water park in North America. Stock up on snacks—and coffee for the adults—inside the market.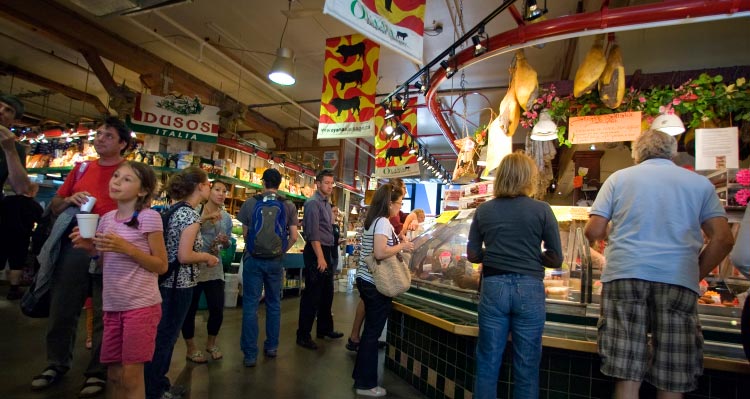 Dinner: The British Columbia Family Favourite
There are plenty of great places for dinner on Granville Island, most of them highlighted British Columbia's amazing produce and seafood. Try Tony's Fish and Oyster Café for fish and chips. If your kids still have some energy in their legs, head over to leafy Kitsilano for dinner at the super-family-friendly Rocky Mountain Flatbread.
From there, it's just a few blocks to Kitsilano Beach, where you can watch the sun set and goof around in the sand. While you wait for your meal, make a list of all the things you saw, all the ways you traveled and the amazing memories you've had on your exploration of Vancouver.
How's that for one fun-filled day with the kids? What a day to remember!