That gorgeous fluffy pink canopy hanging over the lush green grass of Vancouver. Some of the flowering fruit trees of Canada's West Coast peek out as early as January to hint at spring on the way. It's another weather quirk that makes this city so atypically Canadian, yet such a Canadian gem. And absolutely worth a visit anytime from late-February to May. This year, the blossoms are on track for an amazing season. Whether you have them blossoming in your yard or not, there are ways to enjoy them from home. Read on to find out.
How did they get here?
Hundreds of flowering cherry trees were given as a gift from Japan, to be placed in Stanley Park in honour of Japanese Canadians who served in World War I. This was the first of Vancouver's cherry tree plantings. Some were meant to replace larger deciduous trees with disruptive root systems and overgrown canopies. The move to smaller flowering crab apple, plum and cherry trees intensified after the 1950s.
There are now more than 43,000 cherry trees in Vancouver (including more than 50 different varietals or 'cultivars') on display around Vancouver.
Where to see Vancouver's Cherry Blossoms?
There's definitely no need to wait for the Vancouver Cherry Blossom Festival, which begins April 4, though this could be peak time. Generally, flowers from the Whitcomb cultivar are the earliest of the cherry blossoms to appear—locals caught them on camera during the second week of January in Stanley Park!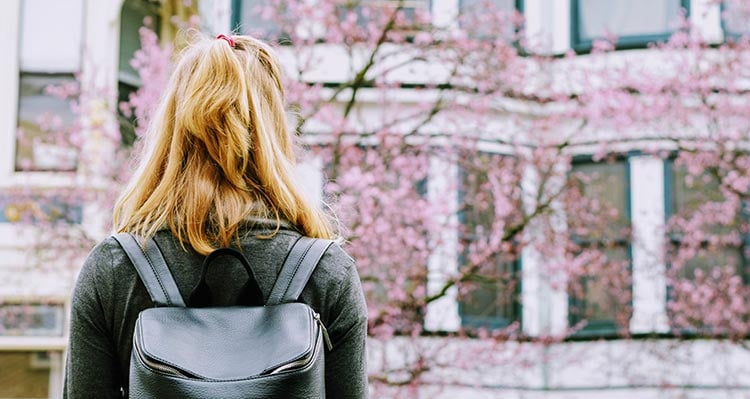 Top spots for Cherry Blossom viewing
UBC Campus
The beautiful University of British Columbia campus in the west end of Vancouver is a great place to start. There is a botanical garden here and lovely arrangements of Japanese plants. These are predominantly April blossoms.
Check out the Tai-haku plants at the entrance to the botanical gardens, about five dozen beautiful white-blossomed Shirotae trees at Regent College, and the small grove of Shiro-fugen at the west mall south of Bio Sciences Road.
Kitsilano
In mid-April, look for Pandora blossoms on the south side of West 6th Ave. from Arbutus to Yew St. and a pretty lineup of Shirotae blossoms on 1st Ave. west of Burrard. From there, continue to Seaforth Park just down the road to check out the Tai-haku.
If you're near the planetarium or the Vancouver Museum at Kits Park, Vanier Park is a great place to see the rare Star Cherry trees in their finest.
Arbutus Ridge
In early May, you must walk under the rare Birch Bark Cherry trees in the Arbutus neighbourhood on King Edward! Walk the long blocks full of Kanzan trees along 20th Ave. at Arbutus, and turn along West 16th to take in more.
West End/Stanley Park
Around mid-April, look for a double row of Shirotae and a grove of Shiro-fugen along the path to the Japanese monument. You should find a blooming grove of Akebono in the Rose Garden around the same time, on the lower side, and an abundance of Accolade blossoms at Chilco mini-park.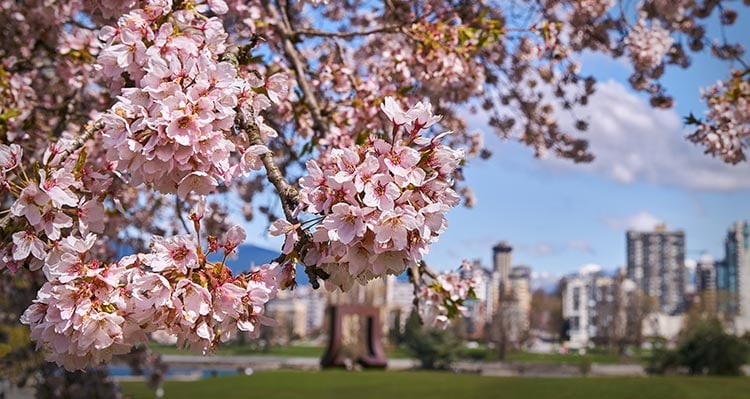 Riley Park/Queen Elizabeth Park
Look for Uminekos in Queen Elizabeth Park by the duck pond, in early to mid-April. At the 33rd Ave. entrance to the park there is one outstanding Somei-yoshino and many Akebono trees. Arrive or leave the park via the 37th Ave. entrance, and pass along a grove of Kanzan plants before you reach a beautiful lineup of Pink Perfection cultivars, an increasingly rare blossom in Vancouver.
Early season: Check out these locations from mid-February to mid-March:
McSpadden Park, Grandview-Woodland
Mount Pleasant at 15th Ave. and Sophia St.
Shaughnessy, Marguerite St. from King Edward to 28th Ave.
Renfrew-Collingwood, Clive Ave. from Spencer to McHardy St.
Dunbar-Southlands, North side of 39th Ave.
Stay Current
Follow along as the blooms happen through updates from the great folks at the Vancouver Cherry Blossom Festival. They post regular updates neighbourhood-by-neighbouroood so we can all enjoy the beauty of Vancouver in the spring, no need to even leave your house!