With its sweeping ocean and mountain views, picturesque waterfront parks and host of quaint shopping and dining districts, Vancouver dazzles in every season. However, explore the city in December, and you'll find an extra touch of whimsy.
Rediscover just how magical Vancouver is with festive window displays, strands of twinkling lights and exquisitely decorated Christmas trees that inspire all the holiday feels. Here are our top picks for where to find holiday cheer in Vancouver.
Soar with Santa at FlyOver Canada
December 8 – January 3
Located in Vancouver's vibrant Harbour District, FlyOver Canada promises a thrilling coast-to-coast adventure with a unique holiday twist in December. Buckle-up, and take off from the eastern shoreline on your epic flight west, soaring over Canada's iconic destinations. Throughout the journey, keep a close watch for Santa's runaway elves as he needs them home before Christmas Eve. Then, hang on to your toque as your flight veers sharply off course for an enchanting visit to the North Pole.
Complete the experience with lunch at the Flying Whale Waterfront Cafe and a wander along the Canadian Trail pathway to capture views of the North Shore Mountains and Stanley Park.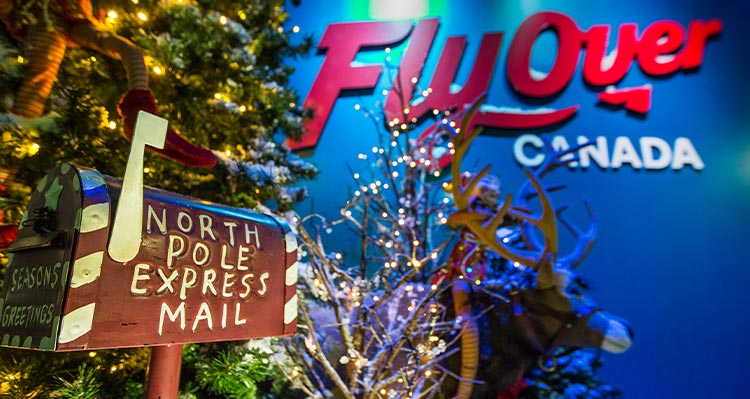 Vancouver Christmas Market at Jack Poole Plaza
November 15 – December 24
Holiday cheer is just around the corner at the Vancouver Christmas Market. This oceanside experience is inspired by the German Christkindlmarkts, which bring communities together in December to enjoy local artisans and regional refreshments. The tradition lives on at Jack Poole Plaza at Canada Place, where you can enjoy shopping, food, and drink vendors, as well as Christmas entertainment and activities like scavenger hunts and augmented reality animations.
You can get 20% off your FlyOver Canada ticket after your visit to the market — just use code VCM20 online at check out. Or visit FlyOver first and get 20% off your Vancouver Christmas Market ticket online using promo code VCMFOC-22.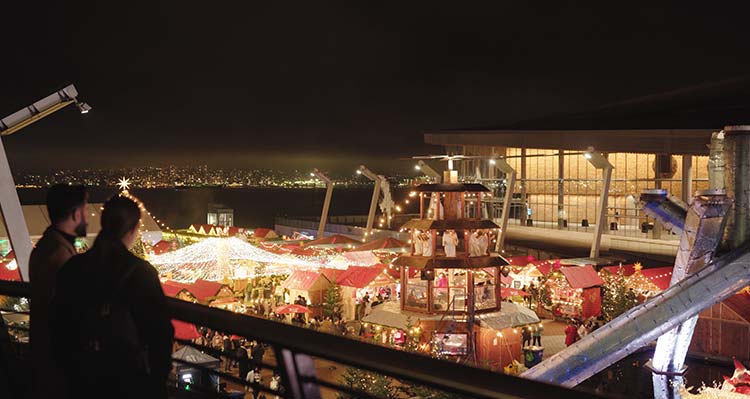 Festival of Lights at VanDusen Botanical Garden
November 25 – January 2
More than one million twinkling lights are sure to get you into the holiday spirit at the VanDusen Botanical Garden's Festival of Lights. Walk through the beautiful 15-acre garden as you watch the Dancing Lights display lakeside, wander around the Rose Garden and enjoy tasty treats from food vendors. You can even give back by lighting a candle and donating to Make-A-Wish at this enchanting winter festival.
Heading to FlyOver Canada after your visit? Get 20% off admission when you show your Festival of Lights ticket at the FlyOver ticket window. You can also get 10% off your ticket to the Festival of Lights if you visited FlyOver first (online only, with promo code FOC10).
Sea to Sky Gondola
Year-round
Located in Squamish, B.C., the Sea to Sky Gondola does exactly what its name implies. Hop on at sea level and ride 885 metres into the sky for sweeping views of your journey. West coast residents know that Vancouver experiences more rain than snow in the winter, but the Sea to Sky Gondola changes that in an instant with powdered peaks, snowshoeing, tubing and more fun-filled holiday activities. Even as the snow falls, thrill seekers can still enjoy the Sky Pilot Suspension Bridge's 360-degree views of the mountains and Howe Sound below.
From December 8 to January 3, get 20% off at FlyOver Canada when you show your Sea to Sky Pass at the ticketing window, or get 20% off your Sea to Sky Gondola Ticket when you show your FlyOver pass at purchase.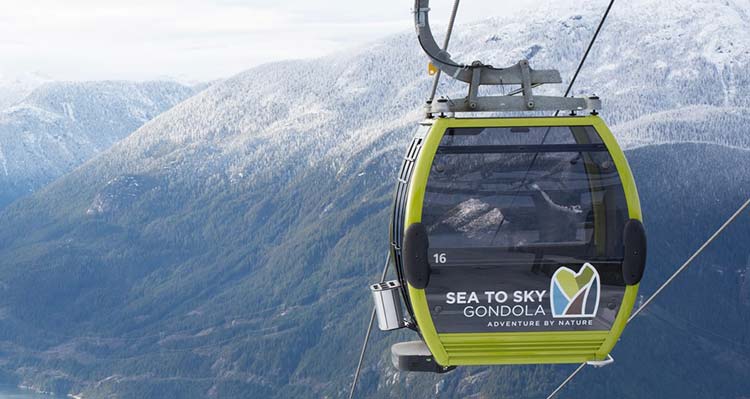 Canyon Lights at the Capilano Suspension Bridge
November 19 – January 22
Watch as a Vancouver mainstay is transformed for the holiday season during Canyon Lights at the Capilano Suspension Bridge. This annual event is loved by locals and visitors alike who come to see the suspension bridge lit from end to end with a dynamic multicolour display. You can journey into a glowing rainforest, walk high above the forest floor along Treetop Adventure and wind your way through the Arc de Lumina light tunnel. Canyon Lights has fun for the whole family, including activities like the Snowy Owl Prowl scavenger hunt, but make sure little ones are strapped to you as strollers aren't permitted.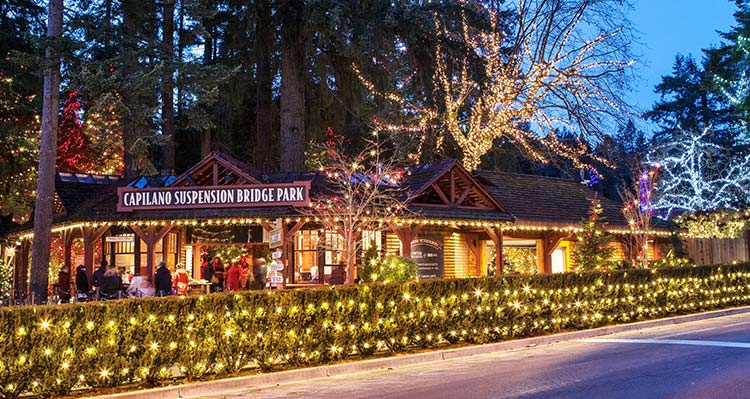 Feeling festive? Start your Vancouver holiday adventure by booking your tickets to FlyOver Canada today. Happy holidays!