Heli-sport companies operating in the area get exclusive access to world-class terrain. This is an enormous scope, amounting to 10,700 square kilometres and larger than the Swiss Alps. That means people who try this sport in Bella Coola have the opportunity to lay down fresh tracks, literally, to be the first to carve a path in the snow on a slope that has never been touched before.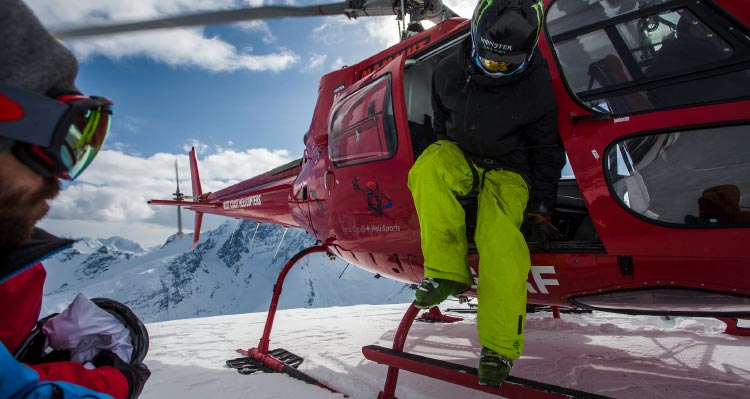 Starting with a bang
During the filming of FlyOver Canada, the crew kicked off right here in Bella Coola. It was the first shoot of the whole project, and it was a challenging one. Due to the need for perfect light and perfect powder snow with safe avalanche conditions, the timing had to be bang-on. After each take, the entire shot had to be reorganized—because, as Director Dave Mossop says—once the ski tracks were in, the location was spoiled.
Mossop says, "The conditions were absolutely amazing, so we pulled it together quickly. It was a beautiful window of weather, something I've never seen in 20 years of helicopter skiing."
On the FlyOver Canada flight-ride, you can experience this flight and soar right over the Bella Coola backcountry as skiers—including the legendary Canadian freeskier JP Auclair—glide down steep slopes of perfect powder.

Fit for film
Bella Coola has a backdrop any set designer could hardly dream up. So, naturally, filmmakers have gone to great lengths to get their equipment here. The combination of vast rainforest, abundant wildlife and world-class alpine terrain are the perfect ingredients for a nature documentary or ski film. Or even a few big Hollywood productions.
Seven Years in Tibet and K2 were both partially filmed in the Bella Coola area, partly because of the Coast Mountain's resemblance to the Himalayas. Sherpas Cinema's "mind-bending big mountain ski footage" for their motion picture Into the Mind was captured here. The sci-fi genre has sampled this valley, too.
Ten years ago, the Incredible Hulk travelled through New York, a Brazilian favela and, wait for it… Bella Coola. In a closing scene, the American superhero makes his final escape into the peaceful Bella Coola countryside. Now we know why.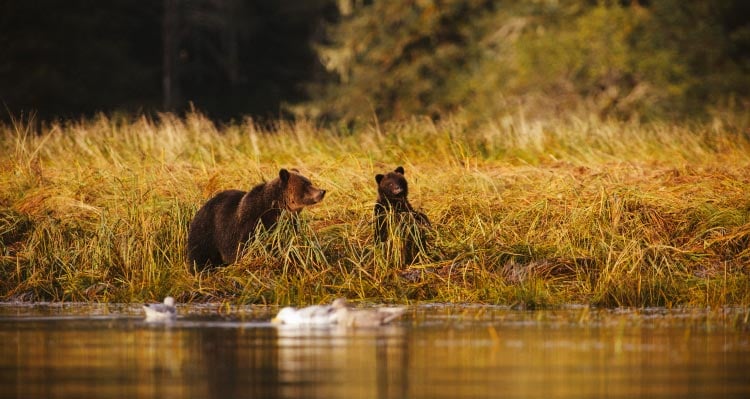 Spirit Bears: Nuxalk territory of the Q'umk'uts'
While the entire river valley of Bella Coola includes seven settlements, only about 2,000 people call it home. The name Bella Coola refers to the first indigenous Nuxalk people who lived along the rivers and coastline. The Great Bear Rainforest, the largest coastal temperate rainforest on Earth, is a sacred area for the Nuxalk people. This spectacular rainforest, sometimes called the Amazon of the North, is one of the world's great natural wonders. It encompasses thousands of kilometres of pristine wilderness, old-growth forests, glacier-carved fjords and is teeming with wildlife.
This special place is home to the rare Kermode Bear, or the spirit bear, a species of black bear with cream-coloured fur. Though only a few hundred of these beautiful creatures exist in coastal BC, they are even more scarce outside the region.
If you are fortunate enough to make a visit here, keep a watchful eye for other wildlife who call the rainforest home: Orca and humpback whales, dolphins, wolves, salmon and Grizzlies. Maybe even a Sasquatch!
You don't necessarily have to turn your heli-skiing dreams into reality—experience the thrill and stunning beauty of it by hopping over to Canada Place and getting a seat at FlyOver Canada.
How to Get Here
Flights depart daily from Vancouver for the Bella Coola Airport. It takes just over an hour by plane to get there. Otherwise, it's a long journey by boat from Vancouver Island, but the destination is an incredible reward.