For many people at FlyOver Canada, the preshow is what touches them the most. UpLift, an immersive film experience, is so enthralling and meaningful, so dedicated to representing the heart of Canada, that it does tend to really tug at people's heart strings. After all, it's an effort to bring the essence of this great country to life.
For the team that created it, it was no simple feat!
The renowned Canadian multimedia studio Moment Factory took 19 months to create the 360-degree experience that is UpLift. Moment Factory has created more than 400 unique shows and multimedia experiences around the world, including a rock concert for Red Hot Chili Peppers, illuminations of landmarks like the Jacques Cartier bridge in Montreal and the launch of the Vodafone McLaren Formula One team. They've worked with clients like the Los Angeles Airport, Microsoft, NFL, Sony, Toyota, the Sagrada Familia in Barcelona, Madonna and Royal Caribbean.
A multimedia, moving task
The task here was to create a pre-show that would build anticipation and contribute to the overall experience of FlyOver. It needed to compliment FlyOver Canada in a unique way. So Moment Factory created a fully-immersive show through music and movement.
Essentially, like FlyOver, UpLift is a journey across Canada.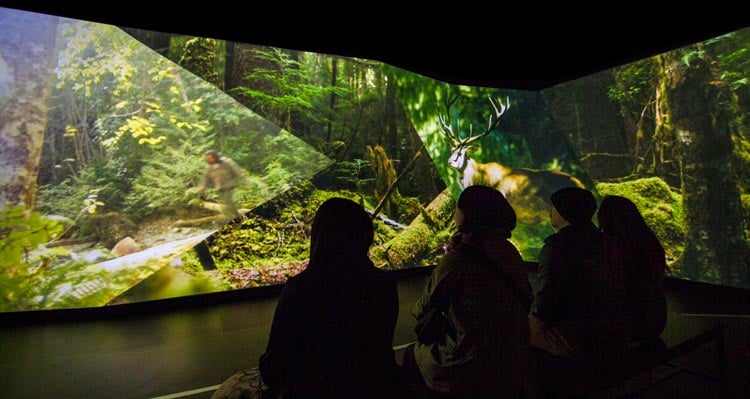 "UpLift takes people through a thrilling, abstract encounter with Canada's history, geography and the dreams of its people," explains Moment Factory's Marie-Eve Meilleur, who served as Project Coordinator.
Guests enter a room that has a surround theatre that makes full use of a multifaceted canvas incorporating 2D and 3D animations as well as 360-degree video projection mapping. UpLift uses the room as a prism to show different facets of Canada, she says. The walls serve as windows into the lives and stories of quintessential Canadians.
Viewers are able to constantly move their line of vision and turn around within the room. There are many small details in front, to the side and behind. It could take many visits to get it all in!
Hockey, of course
It's nearly impossible to tell a story about Canada without touching on the national obsession.
"As Canadians, we are real hockey fans," Meilleur says. "We were honoured to work with former Vancouver Canucks player Alex Borrows." The experience of shooting inside a completely empty Rogers Arena as Burrows fired shots on goal was unforgettable, she says.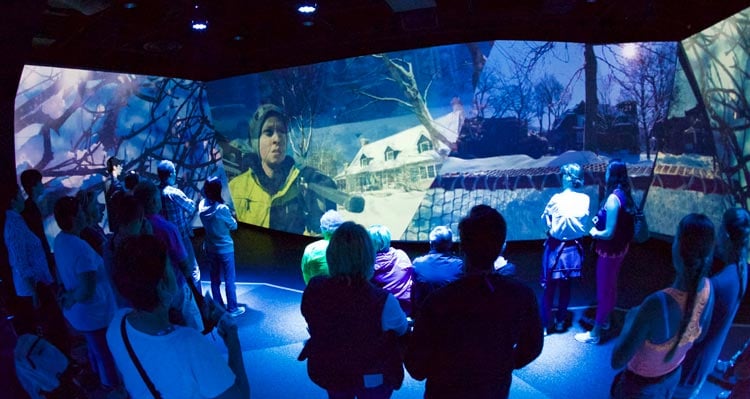 In the film, Burrows scores and an abstract crowd cheers. And meanwhile, slightly to the side in the 360-degree screen, young hockey players do their best NHL'er imitation on an outdoor rink - the quintessential scene of winter in Canada.
Five Canadians
UpLift tackled the vastness of Canada by opting to zoom into the life of five unique Canadians from across the country to express the passion, excitement and diversity of the land. There's Burrows, the professional hockey player, a young girl on a Prairie farm with her grandfather, a mountain man exploring a thick forest, an urban photographer and a couple of parkour athletes in a city core. It asks viewers to use their imagination to piece these lives together. And by focusing on people, it makes UpLift complimentary with the high-flying and vast nature of FlyOver, Meilleur says.
"Where FlyOver Canada takes visitors up and above rolling Canadian vistas, UpLift begins deep inside the land itself," she explains.
It's about the moments
This was the company's first 360-degree set design that included full projection-mapping. Moment Factory's team included an array of highly-trained specialists including scenographers, sound composers, lighting designers, graphic artists, animators and storytellers. They shot across Canada, from Quebec to British Columbia, while the original music was scored at Moment Factory's Montreal studio. In the studio, they built a large model of the room to help visualize how the content would be displayed.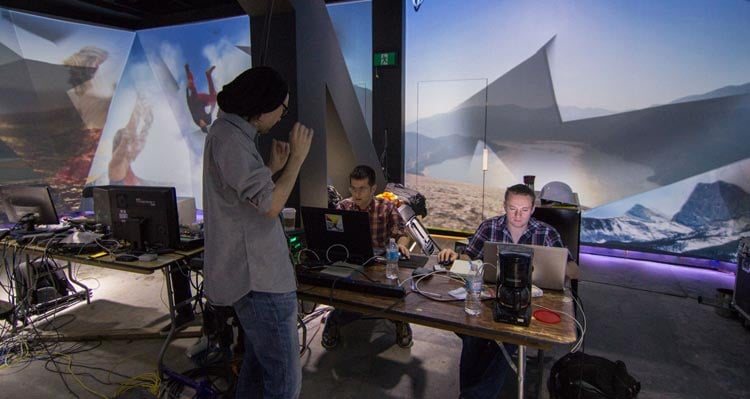 Meilleur says that, to get the most out of Uplift, viewers should try to be in the moment. "Let yourself be swept away," she says. "It's the only way to experience something as epic as the Canadian landscape!"