Even if you've never been to Vancouver, you've probably seen photos of Canada Place. Arguably the city's most iconic landmark, it's situated in the heart of the Burrard Inlet on Vancouver's scenic waterfront. Its roof, topped with giant Teflon sails, embodies the city's coastal spirit.
This is Canada's busiest harbour. Canada Place is the main cruise ship terminal for the region, and it's home to both the Vancouver Convention Centre and the Pan Pacific Vancouver Hotel. It's also where FlyOver Canada is located.
Canada Place has a unique history. Here are some cool facts:
To mark the 1986 World Exposition on Transportation and Communication, or simply "Expo 86", Canada Place was officially opened as the Canada Pavilion by HRH Prince Charles, Diana, Princess of Wales and former Prime Minister Brian Mulroney on Friday, May 2, 1986.
Canada Place today has a mandate to promote Canada and highlight 'inspirationally-Canadian' activities - FlyOver Canada fits the bill perfectly!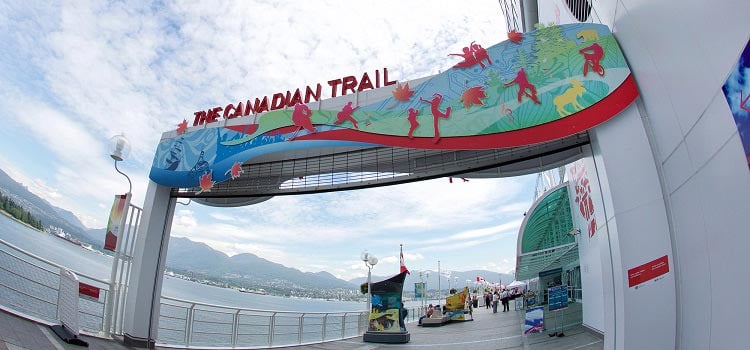 Canada Place is the tourism hub of the city, with nearly 1 million cruise ship passengers visiting each year. The port can house up to four luxury cruise ships at a time.
For the team behind FlyOver Canada, incorporating the flight ride here presented a huge challenge but optimum rewards. The building's structure required a custom system. All elements had to be fit in at straight angles (normally they're angled). The screen had to be resized and most of the ride had to be brought in a 10 x 10-foot opening to the side of the building. Still, it was a no-brainer. As Domingo Vergoossen, director of Ride System at Canada Place, says, "We never thought twice about the location - even if it was hard, we were determined to make it work."
During the 2010 Winter Olympics, Canada Place served as the Main Press Centre. More than 10,000 broadcasters and journalists from around the world set up shop here in February, 2010.
Every day at 12 noon, ten Heritage Horns sound the first four notes of "O Canada" from the roof of Canada Place. With an output of 115 decibels, they can be heard throughout downtown Vancouver. During the 2010 Olympics, they also sounded whenever a Canadian won a medal.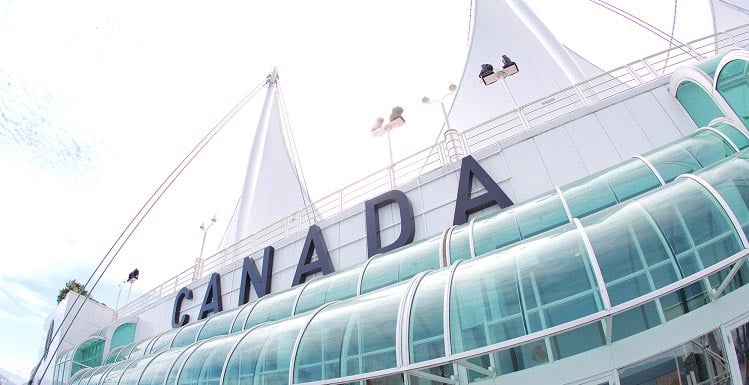 The land that Canada Place is built upon was known as Pier B-C and served as the western terminus for Canadian Pacific Railway's transcontinental railroad and as the passenger terminal for ships travelling across the Pacific. It also housed a small freight shed and ship-building yard and was the premiere wharf on the Canadian Pacific coast.
What a place! From its colourful past to its incredible setting, there's no denying that people who work at Canada Place every day feel fortunate. For the FlyOver Canada team, coming to work brings the same kind of thrill that welcomes visitors from around the world.
"Every day you see these views, it's inspiring," Domingo says. "What a fantastic place to work!"