For the team at FlyOver Canada in Vancouver, showing guests what Canada is all about is part of the job. Every day they get great reactions from visitors who are totally awed — but some days are still more special than others.
A couple of those memorable days happened recently when the team welcomed new residents of Canada from Ukraine. It started when a local organizer reached out to FlyOver Canada to ask about complimentary tickets for Ukrainian families.
"More than half of our crew here are originally from other countries, and several of our team members have close ties to Ukraine," says Lauren Travan at FlyOver. "When this opportunity came up, we didn't hesitate to invite these families as our guests."
Sharing the Experience
Over the past couple of weeks the team has hosted 30 Ukrainian guests who recently arrived in Canada. One of the families arrived just the evening before their visit, and the team was delighted to give them a warm welcome.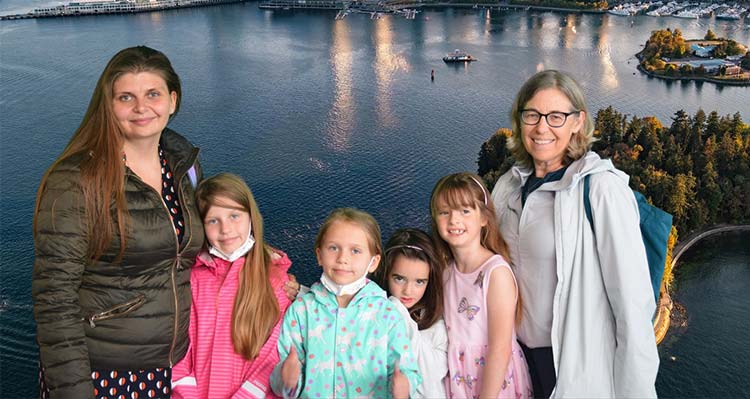 "When I first visited FlyOver Canada years ago before joining the team, I would find it a little emotional as this is the country I now call home and has given me opportunities," says Guest Experience Manager JP McLoughlin.
"I can only imagine the multiplication factor that may be felt for some of the people in these groups where Canada is providing refuge and safety."
Hearing from the recent arrivals about their voyages fleeing Ukraine on foot and traversing Europe before getting to Canada was particularly impactful for Ukrainian team members at FlyOver. Being able to offer a moment of joy to these families has meant a lot.
JP says that it just feels like the right thing to do — for everyone involved. "It feels rewarding when I leave at the end of days like these," he says. "But that's a small piece of it, it is mainly for the families who deserve it. By doing this for them, I like to think that they know we care and we welcome them."
Words of Appreciation
The recent visitors have shared how much the experience at FlyOver Canada has meant to them too. For the team, there's nothing better than hearing words like these from a guest named Nadiya:
My parents, children and I have no words to say how much we are thankful to FlyOver Canada for the wonderful and precious gift made for us. I can't describe what happiness you gave us by giving a chance to visit your show on my mom's birthday. Everyone in the family is deeply touched with your hospitality and attention!
I don't know how to pay you back for this, I wish you all the best. Main thing — be healthy, blue sky and peace."
Learn more about resources available to Ukrainians resettling in British Columbia and ways you can help with the United Way's United for Ukraine program.