So, you've got a few hours in Vancouver. Maybe you have a layover. Some time before your cruise departs. Or perhaps an opening in between meetings. Or you've come to a conference one day early. Whatever the reason, you want to maximize your time! In Vancouver, that means culture, nature and, of course, good coffee.
Here's our ultimate half-day Vancouver itinerary:
Start at YVR: Hop off your flight, walk about 10 minutes, and you'll be on the Canada Line train. It's remarkably easy to get from the Vancouver International Airport into the heart of the city. Take it to the end of the line, and you'll be at Canada Place in just under 30 minutes.
Soak it in: Get off at Waterfront Station and exit via West Cordova. Walk west until you reach Howe, then turn right and walk until the street ends. Now that you're on the waterfront, take a moment to look around and soak in all that Vancouver is - soaring skyscrapers, tall peaks, placid waters and cool locals.
Snack break: Grab a coffee and a muffin at the Coal Harbour Café or the Bellaggio Café, and head down to the Canadian Trail walkway that follows the western promenade of Canada Place. You're in the heart of the Port of Vancouver.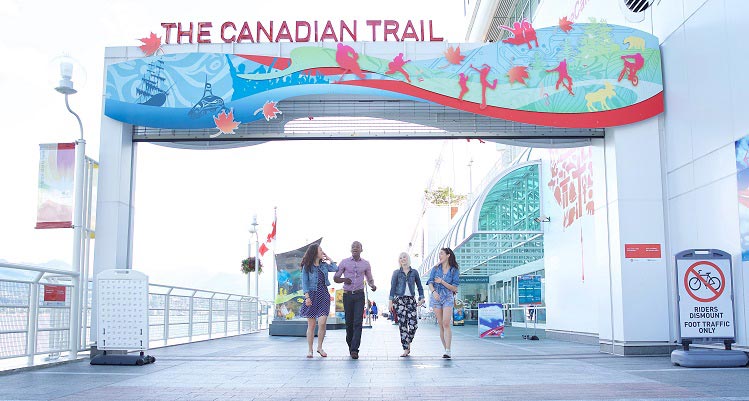 The Canadian Trail: As you wander along the walkway, you can discover cool facts about Canada on the themed 'trail'. At the far end, you're right in the heart of Burrard Inlet. It's a hub of activity - freighters, cruise ships, float planes and kayakers come and go, and the Coast Mountains stretch across the north shore.
A quick trip across Canada: In just 30 minutes, you can take a flight-ride right across Canada, from coast to coast to coast. Stop by at FlyOver Canada for an unforgettable experience.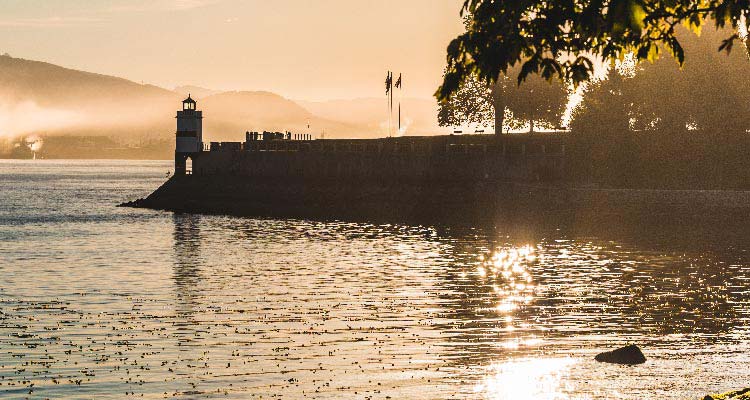 Stretch your legs: Walk or rent a bike and head to Stanley Park, looping past the seawall along English Bay. Biking for the 9-km seawall path can take up to two hours. Stop at the Totem Poles at Brockton Point. If you'd rather walk, or if time's really tight, head just as far as Lost Lagoon.
Lunch spot: Grab lunch on Denman Street. If you can stretch your visit, head to the Cactus Club Café for lunch. It's a BC classic - as their first location opened in North Vancouver. If you're rushing, grab takeout at Damso for Korean food or Akiri Sushi for Japanese.
Heading out: Drop your bike off and head back to YVR via the Canada Line. Now that you've had a taste of this incredible city, you'll be dreaming of your return to Vancouver until your next visit.