The FlyOver Canada experience strives to capture Canada in all its glory as it zooms in on some of the country's most remarkable places.
Near the end of the ride, we're transported to the west coast of Vancouver Island, where Pacific grey whales pass nearshore and ocean horizons are endless.
The beaches along the Pacific Rim are the essence of Tofino—Tonquin Beach, Mackenzie, Chesterman and Cox Bay near the boho-cool town, and Long Beach and Combers a little further south. It's a sanctuary for wildlife and a surfer's paradise. This is another one of our country's rugged and beautiful coastlines, and it is teeming with life.
Boat + paddle
Because Tofino occupies its own peninsula within Clayoquot Sound, the town of 1,932 is almost entirely surrounded by water and speckled with islands to explore. This is a perfect escape for paddlers who come here from all over North America to explore the coastline via kayak.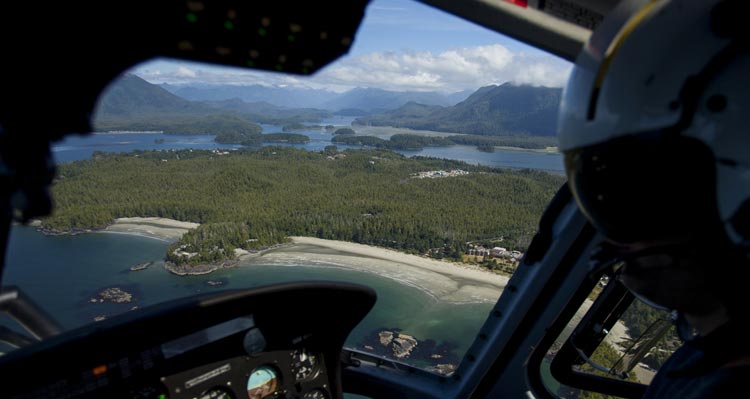 Each year, thousands of world travellers arriving via the Pacific Rim Highway with kayaks on their roofs. Many are bound for Browning Passage, a waterway which could take them northeast to circumnavigate Meares Island, or on a multi-day trip around Vargas Island for a more adventurous ride exposed to pockets of open coast.
Some paddlers may launch out from the calmer Mackenzie Beach, wind around to a campsite along an inlet route and replenish with a drink of fresh rainforest water.
First Nations Paddlers
Tofino is home to the Nuu-chah-nulth First Nations. One of the most important symbols of their culture is the traditional dugout canoe, a both sophisticated and practical mode of travel across the open ocean, with a deep history. The model of this canoe is specifically designed for the waters of the Pacific Ocean, and has changed very little over the centuries. A high bow enables easy landing on sandy beaches and lets waves split—the canoe won't get swamped. A flat bottom helps with stability. Canoes are generally painted red inside to represent life, while the outside is black to protect the wood.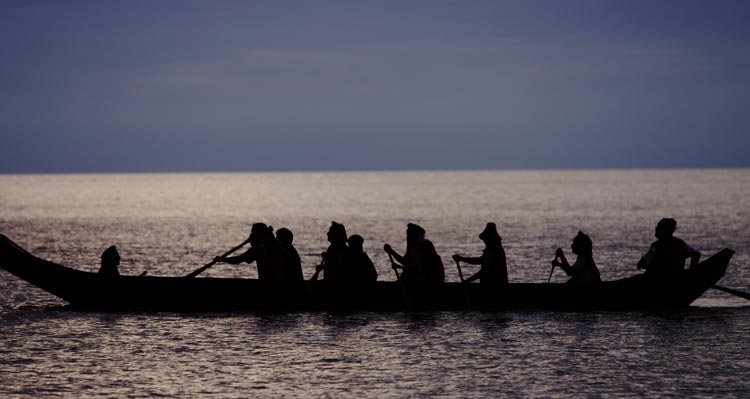 The Nuu-chah-nulth people have used them to access territories up and down the West Coast of Canada—it was a vehicle for hunting. Today, they continue to use these canoes for ceremonial reasons. When the community gathers and heads out on to the coastal waters in a canoe, it symbolizes re-connection.
Watching + surfing the winter storms
Vancouver Island locals says winter storms are one of the great highlights of Tofino. Local hotels share stories about thrashing storms in an effort to draw visitors to the wild drama while promising cozy calm indoors. And the storm season is truly dramatic—it runs for five months or more and sends six-metre waves hurling toward the shore.
Due to their serendipitous location, Tofino and its neighbouring town of Ucluelet just south experience 15 to 20 "mega-storms" per year. Super-charged winds and ocean swells reconfigure the shoreline and draw tourists to their window panes in awe.
This kind of weather is also prime turf for wave-chasers. Surfing happens year-round in Tofino and it's world class. Waves coming in from the North Pacific make this side of Vancouver a sublime destination for experienced surfers.
Autumn is the most amenable season for surfing, when conditions are more predictable, with still a chance of a storm to stir up a groundswell.
The massive mammals of the open ocean
Vancouver Island is brilliantly positioned along the migration route of the Pacific grey whale. These massive white-spotted mammals migrate relatively close to shore. That means they can be spotted from a coastal cliff as they pass by or stop to feed.
The grey whale covers epic distances between Mexico and Alaska, up to 22,000 kilometres annually, one of the longest migrations of any mammal.
The peak time to see them in Tofino is between March and May. Occasionally, during the summer a few whales stay around to feed and discontinue their migration north.
Vancouver Island is one of the world's best places to see orca whales as well, though they are not as common as grey whales. And if you like the idea of passing seal haul-outs along your boating route or having a dolphin ride the bow wave of your boat, this could happen here, too.
Getting here
Tofino is about 200 kilometres from Nanaimo along the Pacific Rim Highway. BC Ferries takes travellers from mainland Vancouver to Nanaimo. The Tofino-Long Beach Airport has daily flights from Vancouver.