If there's one natural landscape that most epitomizes the beauty of China, it's likely the forests of Zhangjiajie in Hunan province. Dotted with gorgeous quartz-sandstone pillars that formed the inspiration for the mountains in the film Avatar, the vast protected area surrounding the peaks of Zhangjiajie draw millions of tourists every year. Besides those spectacular natural features, it's also home to some of the most astounding tourist attractions on the planet.
During Flight of the Dragon, showing this January at FlyOver Canada, you'll have a chance to experience this amazing park yourself.
Here are some of the highlights of this unique park:
1. It was China's first national forest park: Declared in 1982, Zhangjiajie National Forest Park forms only a portion of the vast Wulingyan Scenic Area. In 2004, it was listed as a UNESCO Global Geopark.
2. Ancient history: The pillars of Zhangjianie can be found in ancient paintings. Artists were drawn by the haunting beauty of the landscape. There's also a temple in the middle of Zhangjianie park that dates back to the year 870 AD.
3. Avatar Hallelujah Mountain: The pillar-like, karst-like peaks of Zhangjiajie, the result of physical erosion, became one of the world's most iconic landscapes once they were revealed as the inspiration for director James Cameron's 2009 film Avatar.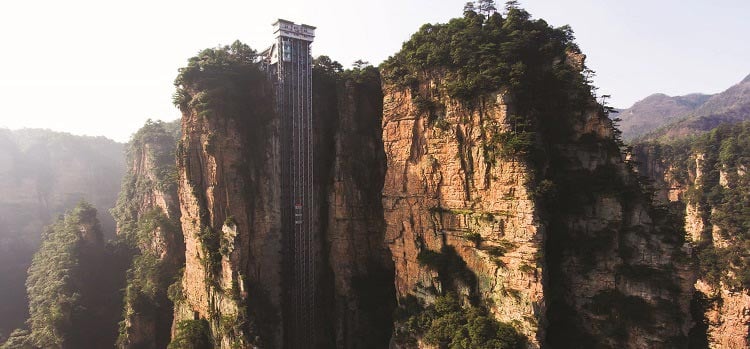 4. There's a massive elevator: The Bailong Elevator opened in 2002 and stretches 326 m (1,070 ft) high, making it the world's largest lift. The glass-walled ride lasts under two minutes and can accommodate up to 50 at a time. How's that for a quick ride to the sky?
5. And 3 jaw-dropping walkways: Another ground-breaker was the Zhangjiajie Grand Canyon Glass Bridge, the longest (430 m) and highest (300 m) pedestrian bridge in the world. It's so incredibly popular, officials have had to close it just two weeks after it opened in 2016 to readjust infrastructure due to incredibly high demand. It's one of three glass-bottomed, cliff-hanging walkways in the park.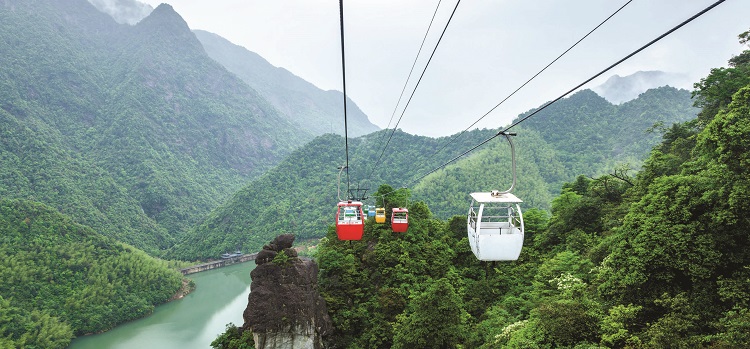 6. And there's a giant cable car: Climbing nearly 24,500 feet to the top of a mountain, the Tianmen Mountain Cableway takes riders to a summit. From there, they can hike another 999 steps on a constructed "stairway to heaven" that ends in a cave tucked inside a natural arch. It's no coincidence that it's 999 steps—after all, nine is a lucky number in Chinese numerology.
Don't miss the chance to see Zhangjiajie park's incredible landscapes in a whole new way as you soar through China during Flight of the Dragon, playing January 24 through February 24 at FlyOver Canada.